Skip to Content
Advice from Colorado Professionals: What to Do When Your Heating System Is Malfunctioning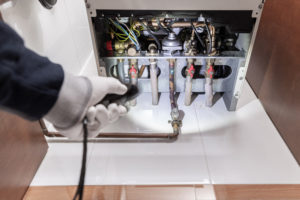 Heating and air conditioning is very important for the overall comfort of a home or a building. And when your heating system is not functioning, this can be very inconvenient. But there are some steps you can take to restore the good state of your equipment.
For instance, there are some specific things which may go wrong with your heating system. It may happen for it not to turn off. There can be an issue with the system's blower. In order to solve this type of issue, it is very important to make sure that the wiring is properly plugged into the thermostat. Then you should reset it to the manufacturer's settings.
There can be areas in your house which do not seem to get enough heating. This can be caused by issues to the fan motor of your heating system, to the belts and bearings, and so on. Another commonly encountered problem is when cold air seems to get out of the vents.
Another commonly-found issue is when the thermostat is not working. You should check for a tripped circuit, to see if that is the cause for that. Regardless of the exact problem, calling on a professional Highlands Ranch furnace repair team is the best choice to make.